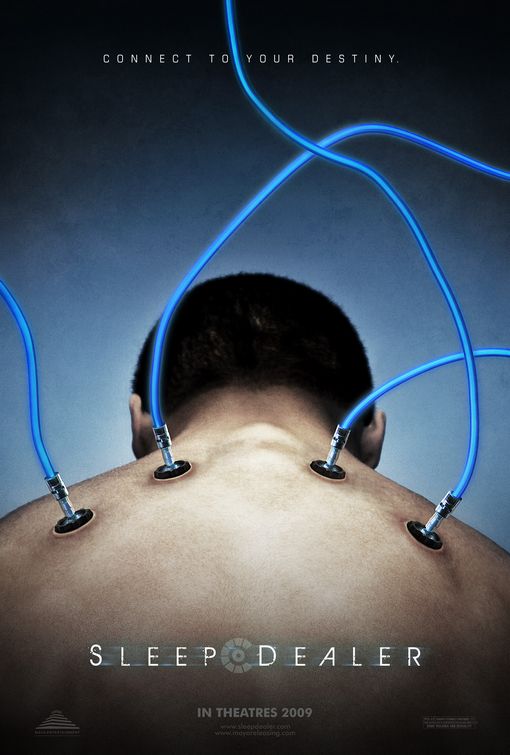 7.5/10
This movie was simply an excellent watch. 
What I loved about this film, similar to every other that I've simply loved, was the new concepts: a movie that hasn't been done yet (at least to this extent). What was so great about this sci-fi-esk film was the director's stress on our connection to the characters. In a way, this is ironic, because as we watch a film about buying and selling memories, we literally eavesdrop on the character's, Memo Cruz's, life and memories. 
The movie begins dark, and from that point has nowhere else to go except deeper into the darkness, regardless of the highs and lows. This weight on the film is due to the state which mankind has taken the form of, technology. In a near distant future, we connect ourselves to a technological motherboard through our nervous system, giving our life force in order to work as robots across the world. We have literally become the embodiment for our creations, though at a price of losing our sense of reality in a virtual world that can drain us of our senses. 
A beautiful concept that writer/director Alex Rivera emphasized through beautiful contrast was the simplicity of 'life'. Memo realizes through romance and hardship that his life back home in Oaxaca was what creates and propels a life force. He had nothing to contrast this with until he worked in a Sleep Dealer, and realized that what he imagined the next step in life was, becoming a member of the ever growing virtual global network, was in fact what saps the life from a person. 
The most beautiful component in the movie for me was how crucial water was for the people in his home village. Throughout the film everyone is trying to work as this and that and sell memories through their nodes, attempting to sustain what they perceive as life. Though what is important to remember is that we are not machines, we are people. We make machines to be machines, and people are made to be people. We are organisms that need water and food to survive, and this contrast in the movie between the workers of Tijuana and the people of Oaxaca is really eye opening and should remind us that we dont need technology to keep us alive and thriving. What should keep us alive and thriving is ourselves, and our will to keep living.